Lady Wildflower commands audiences with her fierce, high-energy Burlesque performances, full of drama and passion. Oozing sex appeal and with charisma dripping from her sparkling talons, Wildflower's show-stopping acts dazzle, entrance and delight...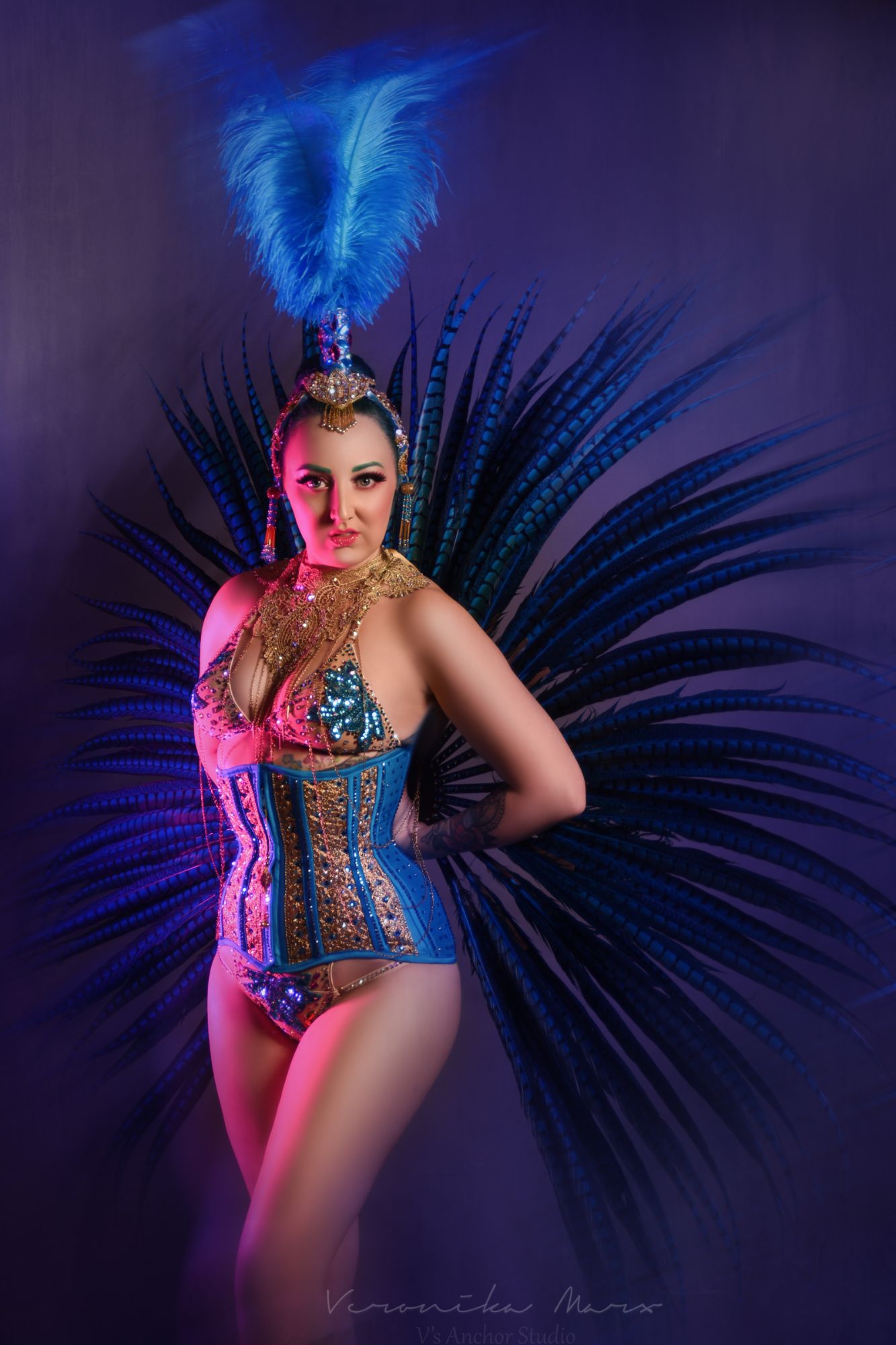 Lady Wildflower is an internationally acclaimed and highly in-demand burlesque artist based in Yorkshire, England. She was voted in the Top 20 UK Burlesque Performers by 21st Century Burlesque every year between 2014 - 2018 plus number 67 in the world in 2018. She was also nominated for "Best Burlesque Performer" in the 2016 Sexhibition Awards and "Best British Burlesque Performer" in The Burlesque Awards 2016. An award-winning nipple tassel twirler, Wildflower won "Best Technique" at the Octbooberfest Tassel Twirling Championships at Stockholm Burlesque Festival 2016 and kept her tassels twirling continuously for 15 minutes!
Since making her burlesque debut in 2008, Wildflower has graced stages all over the UK as well as in China, New York, Italy, Finland, Germany, The Netherlands, Sweden, Belgium, Portugal, Switzerland, Malta, Poland & Ireland.
With over 25 years' stage experience, Lady Wildflower is trained in Drama & Theatre as well as a wide variety of dance styles including Contemporary, Disco-freestyle, Ballroom and Latin American.
As well as a performer and a popular and respected burlesque tutor, Lady Wildflower is also an accomplished and applauded burlesque & cabaret producer. Her show, The Frou Frou Club, takes place in Hebden Bridge & Todmorden in West Yorkshire.
She is also the producer and co-founder of the Hebden Bridge Burlesque Festival, one of the biggest and most applauded Burlesque events in Europe - now in its 8th year. HBBF won the "Best Burlesque Event" award at The Burlesque Awards 2016.
Wildflower also produces bi-monthly speakeasy burlesque shows at The Whip & Kitten cocktail bar in Rawtenstall, Lancashire.
Lady Wildflower can be booked to perform at public shows, corporate events and private parties and can tailor her acts to suit.
She is a member of Equity and holds Public Liability Insurance.
Lady Wildflower is also a fully qualified and insured dance teacher and offers burlesque workshops, courses and one-on-one tuition.
Please contact her directly to enquire about bookings: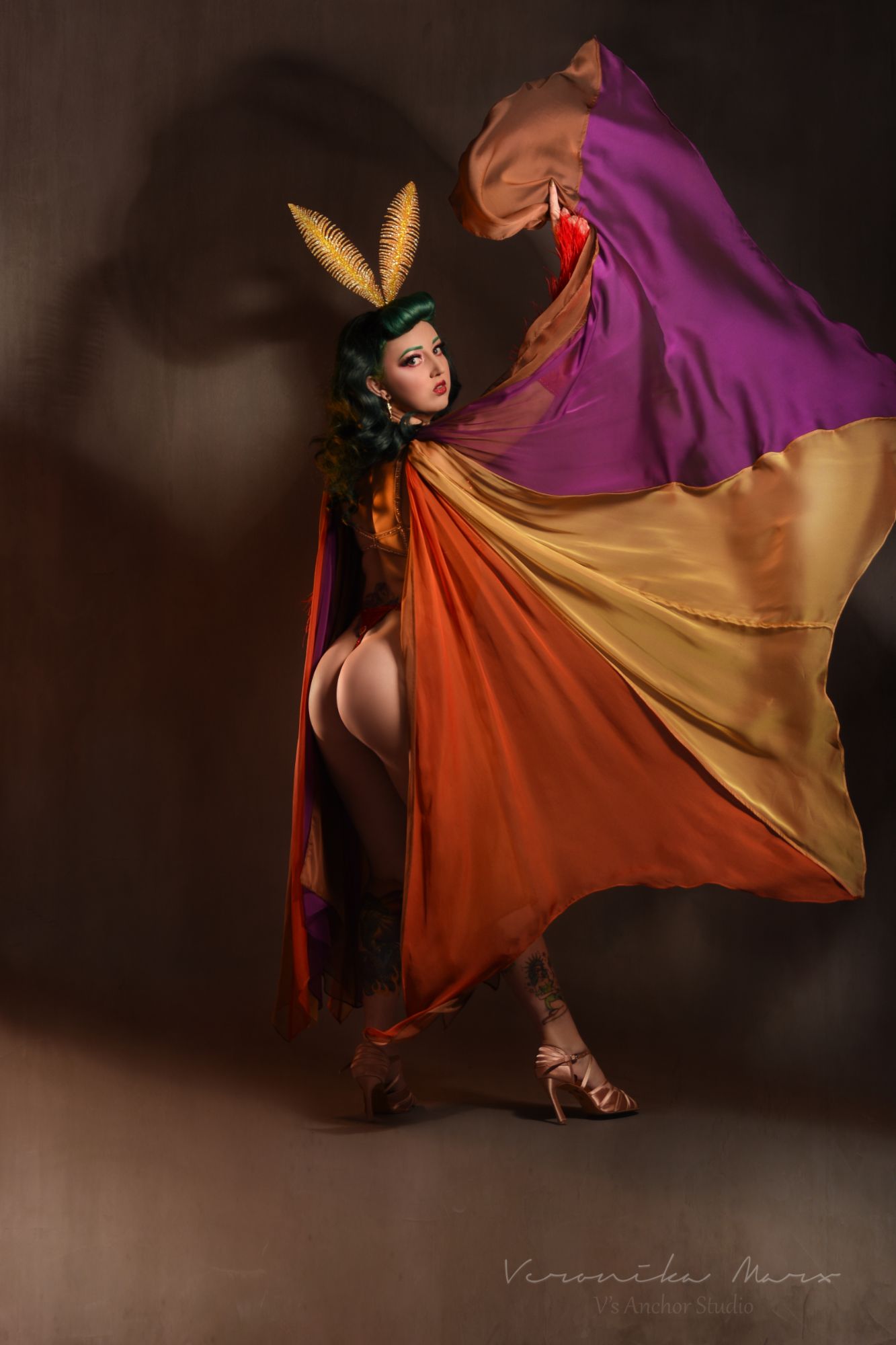 A select number of Lady Wildflower's burlesque performance highlights include:
Amsterdam Burlesque Award 2014 & 2015 (Amsterdam, HOLLAND)
Burlesque Noir (Blackpool Tower Ballroom, ENGLAND)
Carnival Divine (Manchester, ENGLAND)
The Cat's Pyjamas (Grimsby, Lincoln & Hull, ENGLAND)
China tour with Anna Fur Laxis 2012 (Shanghai, Changsha & Suzhou, CHINA)
Dr Sketchy's Anti-Art School (Nottingham, North Wales, Hebden Bridge & Manchester, ENGLAND)
Edinburgh Fringe Festival 2011-2015 & 2018 (SCOTLAND)
Geneva Burlesque Festival 2018 (Geneva, SWITZERLAND)
The Gilded Merkin (Nottingham, ENGLAND)
The Grand Prix (Silverstone, ENGLAND)
Home of Burlesque (Hamburg, GERMANY)
The Hundred Watt Club (Aldershot, ENGLAND)
Kendall Calling Festival 2018 & 2019 (Cumbria, ENGLAND)
Kinky & Quirky/ The Lucky 7 Club (Torquay & Exeter, ENGLAND)
La De Da Cabaret (Derby, ENGLAND)
La Rivista Burlesca (Bologna, ITALY)
Lili La Scala's Another F*cking Variety Show (Edinburgh, SCOTLAND)
Lisbon Burlesque Week (Lisbon, PORTUGAL)
Liverpool Tattoo Convention 2011-2015 (Liverpool, ENGLAND)
Madame Q (Warsaw, POLAND)
London Fetish Weekend 2009 (London, ENGLAND)
Manchester International Tattoo Show 2015 (Manchester, ENGLAND)
The Missy Malone & Friends Burlesque Revue (Kings Lynn & Great Yarmouth, ENGLAND & Edinburgh, SCOTLAND)
Munich Burlesque Festival 2015 (Munich, GERMANY)
Nasty Boys (Treviso, Italy)
Neil Kendall's Goldust (Chester, ENGLAND)
New York Burlesque Festival (NY, USA)
Qi-Pow! Burlesque & Cabaret (Shanghai, CHINA)
Sassy Cabaret (Brussels, BELGIUM)
Sheffield Burlesque & Cabaret Festival (Sheffield, ENGLAND)
Sonisphere Festival 2009 - headlined by Metallica (Knebworth, ENGLAND)
Stockholm Burlesque Festival 2016 (Stockholm, SWEDEN)
Teerenpeli Tease (Tampere, FINLAND)
The Martini Lounge (Liverpool, ENGLAND)
The Wet Spot (Leeds, ENGLAND)
Velvet Burlesque (Scarborough & Sheffield, ENGLAND)