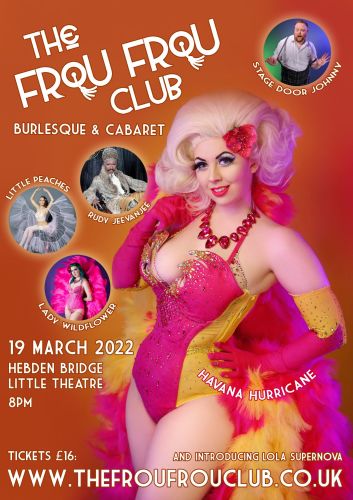 The Frou Frou Club - Hebden Bridge
Lady Wildflower presents...
The Frou Frou Club Burlesque & Cabaret Show!
An evening of the finest burlesque & alternative cabaret acts.
Saturday 19th March 2022
at Hebden Bride Little Theatre, Holme Street, Hebden Bridge HX7 8EE
Doors 7:15pm, Show 8pm
Hosted by:
STAGE DOOR JOHNNY
- A flirtatious, lyrical lothario and seasoned comic raconteur with razor-sharp wit, he'll have audiences grinning, giggling and eating from the palm of his hand – sometimes literally. Johnny can be heard singing everything from Shirley Bassey to Guns 'n' Roses, as well as ridiculous self-penned medleys to surprise and delight! Stage Door Johnny is the resident host for Tres Tres cabaret in Stafford and La De Da Cabaret in Derby.
Starring:
HAVANA HURRICANE
- Havana Hurricane is one shimmy shakin', earth quakin' whirlwind guaranteed to blow you away. An international burlesque performer who has graced stages throughout Europe, Australia, Canada and the USA. A true force of nature Havana Hurricane has been voted on numerous occasions in 21st Century Burlesque Magazine's 'Top 50 Burlesque Industry Figures' and the 'Top 10 UK Burlesque Performers' lists. With a vivacious take on good ol' fashioned bump 'n' grind Havana Hurricane is one of the UK's most established and in demand artists.
LITTLE PEACHES
- Little Peaches, who was named in the top 50 most influential burlesque figures in the world in 2020 & 2021, creates acts that tell stories & bring to light experiences people with disabilities face. She has been booked in countries all over the world, including 3 slots at the prestigious Burlesque Hall of Fame's online shows. Peaches is the creator of the original cabaret 'DisabiliTease' showcasing disabled artists from across the globe. She's queer, disabled, opiniated & will not stop till the world knows that disabled people are worthy!
RUDY JEEVANJEE
- A vision of excellence...deity birthed into royalty - it's Rudy Jeevanjee! They will be gracing you with some much needed, sensual, seductive and powerful, non binary energy! This
award winning dancing deity will leave you breathless and mesmerised... Winner of Legend in the Making at Hebden Bridge Burlesque Festival 2019.
LADY WILDFLOWER
- International showgirl Lady Wildflower commands audiences with her fierce, high-energy performances, full of drama and passion. Oozing sex appeal and with charisma dripping from her sparkling talons, Wildflower's show-stopping acts dazzle, entrance and delight.
Wildflower has been voted in 21st Century Burlesque's Top 20 UK Burlesque performers multiple times throughout her career. An award-winning nipple tassel twirler, Wildflower earned "Best Technique" and was first runner up overall at the Octbooberfest Championships in Stockholm – where she twirled her tassels continuously for over 15 minutes! Lady Wildflower has performed all over the world over the past decade, including China, New York & she regularly stars on stages all over Europe.
and introducing: LOLA SUPERNOVA - trained by Lady Wildflower and making her long-awaited Burlesque debut.
Aftershow party with DJ Crom.
Best-dressed prizes for the audience members with the most fabulous attire. Prize draw - bring your cash and win some fancy prizes!
Accessibility: The bar and theatre are wheelchair accessible and there is an accessible toilet. If you require a wheelchair space, please book your ticket and then contact us to let us know. Please also feel free to email us to discuss any other accessibility needs or requirements.
This is an inclusive space that welcomes people of all ages (18+), genders, sexualities, races, religion and identities. We will ensure that the bathroom in the venue room is gender neutral for the evening. We will not tolerate any kind of homophobia, transphobia, sexism, racism, ableism, fatphobia or non-consensual touching. Any behaviour of this sort will resort in expulsion from the event without refund. Treat everyone with respect and we'll send that love right on back to you. If you find reading that off-putting, then this probably is not the event for you.
Suitable for over 18's only.
COVID-19 requirements:
Masks are to be worn at all times in the venue, except when drinking, unless you are medically exempt.
In order to gain entry to the theatre, we will ask to see either your Covid 19 vaccination passport OR a negative Lateral Flow Test result taken on the day of the show. This is to keep all our staff and other audience members safe. We thank you for your understanding, cooperation and patience.

No photography/videography during the show please (but you may selfie to your heart's content before, after & during the interval.)
Sorry, no refunds/exchanges. Lineup subject to change.