Classes and Workshops

As well as being an experienced Burlesque performer,
Lady Wildfloweris also a fully-qualified and insured
dance teacher (AIDTA, Equity.)
She has taught hundreds of women the art of the
tease since 2011 and currently teaches burlesque
courses at Beginner, Intermediate and Advanced
Levels as well as masterclasses, workshops, hen parties
and private tuition.
UPCOMING BURLESQUE CLASSES, COURSES & WORKSHOPS:
Click the following links to find out more and book your place:
COURSES:
My Beginners & Intermediate courses are currently on hold due to the social distancing restrictions in place due to the Covid 19 Pandemic.
However, I am teaching a series of drop-in classes in Manchester and Leeds throughout August. See my social media for more info.
BURLESQUE HEN PARTIES:
Fancy a hen do or birthday party with a difference?
Lady Wildflower's Burlesque Party Workshops are fun for all ladies, whatever the occasion.
Click HERE for more information.
---
TESTIMONIALS FROM STUDENTS:
"I started burlesque lessons for a bit of fun but got so much more out of it! I made some great friends, got fit, learnt to walk and dance in high heels and my confidence in myself and my body is through the roof! Feather boas and strutting my stuff have made me a happier person and I can't recommend it enough!"
-Beverly (Beginners, Intermediate & Advanced course)
"Just wanted to say that I have soooooooooo enjoyed coming to your classes! Best decision I've made! It has improved my confidence & my previously partly discovered inner vixen is now fully discovered & becoming a very important part in who I am! I have met some remarkable & wonderful ladies & am looking forward to doing the advanced course with you! Thanks again for everything"
- Heather (Beginners, Intermediate & Advanced course) - aka. Rosie Afterglow who has now performed at various shows around Yokshire and is a finalist in the Legend in the Making competition at Hebden Bridge Burlesque Festival.
"Whether you're aiming to perform professionally or its just for fun, Lady Wildflowers classes are an exciting and non judgmental place to learn burlesque and I have enjoyed every moment! I've left with loads of confidence as well as lots of new friends. Once you give it a go, you'll be hooked!!!!"
- Ali (Beginners & Intermediate course and one-on-one tuition)
"Every woman on the planet should do [burlesque] classes. It not only helps improve posture, sex appeal and confidence, but also a huge sense of achievement. Beaming smiles all around when tassle twirling! I have met a good group of friends through the classes which, due to confidence issues, has never really happened before. Classes awaken your hips (and gets you pregnant...!)"
- Kylie (Beginners, Intermediate & Advanced course) - aka. Kinky Krayola who has performed at various events around Yorkshire and has gone on to have a beautiful baby girl since she took the classes!
"This course was a lot of fun, and has given me a new sense of confidence and self-belief that has extended beyond the class setting."
- Clare (Beginners, Intermediate & Advanced course) aka. Liberty Belle who has gone on to perform all over the UK as well as Australia. She also won best comedy act at the Dublin Burlesque Festival.
"18 months ago I saw my first Burlesque gig but could never dreamed of performing. This course has given me the confidence and inspiration to develop my own act, which I debuted in October 2011. I am now gigging regularly and loving every second. A truly life-changing experience!"
- Heidi (Beginners, Intermediate & Advanced course) aka. Heidi Bang Tidy has gone on to perform regularly all over the UK as well as producing Bang Tidy Burlesque and co-produce Tidy & Tips Cabaret Club and the Hebden Bridge Burlesque Festival.
"As well as having a dramatically theatrical awareness and being a dynamic and inventive choreographer, Lady Wildflower is a kind and sweet teacher....all of these special qualities mean alot when you feel unable to encourage yourself to go for it with the nipple tassles! I did the Beginners, Intermediate and Advanced course and I have to say that doing the courses encouraged me to make changes in my life with strength and increased awareness of my feminine power....let's just say there have been many Burlesque moments bursting forth in my private life...it's VERY confidence boosting....and it moves you forward with finesse as a woman....you will meet other women with so many inspiring stories and you will blossom into your true self...GO FOR IT!!!"
- Clare (Beginners, Intermediate & Advanced course)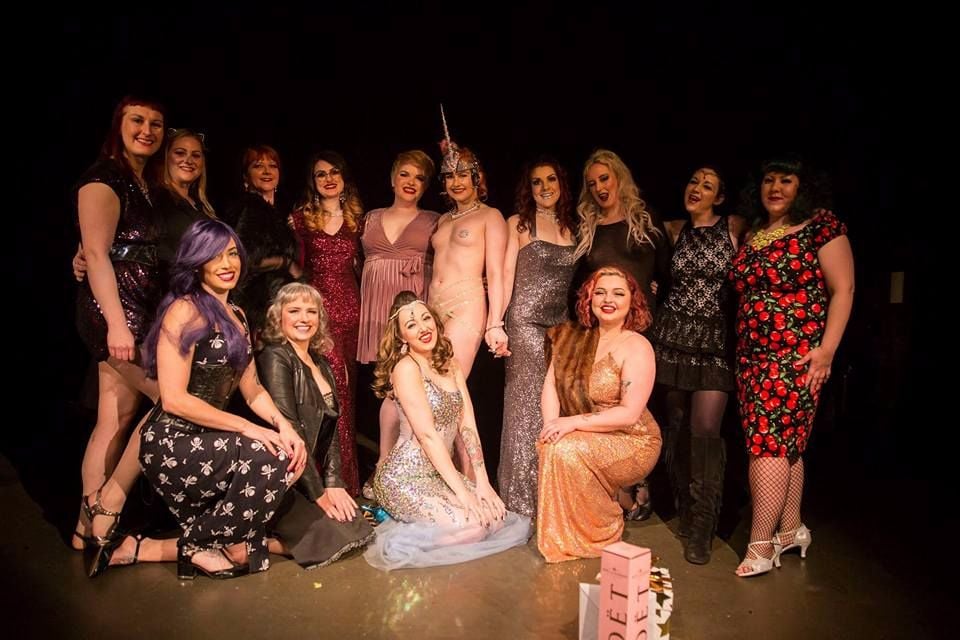 (Photo: Lady Wildflower with her students at the "Show Us Your Newbies" Student Showcase, February 2016)